Natural Insulation Testimonials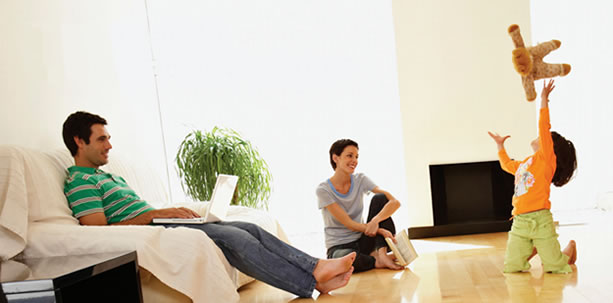 The success of any company is best measured in terms of customer service and satisfaction. So, here are some testimonials from happy customers.
I have recently had the ceiling and underfloor of my house insulated through Michael and Denise Morrison. Michael visited my home to do an inspection and I was impressed with the care he took in assessing the possible insulation needs so that current codes would be met, and checking I qualified for the government insulation grant. This was quickly followed by a quote for the purchase and installation of the material.
The installation was very efficient and it was great that everything was left clean and tidy. It was a pleasure to come home and walk into a warmer house that night.
Michael also organised the installation of a heat pump for me and once again, this was very efficiently done.
I would recommend the company to anyone looking to insulate their home. It was a very easy way to end up with a warmer, more comfortable home. Heather McLennan, Waterview, Auckland.
I would like to thank you for your great customer service. From the promptness of your 1st contact after I requested a quote (a matter of a couple of hours) to the speed with which you came and gave me an accurate quote. Your ability to do the job so soon was fantastic. I really appreciated the politeness of you and your staff while in my home. Last but not least, as the weather has got so much colder in the last week I am enjoying the warmer house. As you know I have already recommended a friend to you and will continue to do so. Louise McKinlay-Birkin, Dunedin
Our experience with Natural Insulation was excellent from start to finish. We had both underfloor and ceiling insulation done, and also a heat pump installed. The knowledge, friendliness and professionalism of your staff, especially Gerry, made it a pleasure to deal with the company. The price was the best, too. Tony and Chantelle Nunez, Hastings.
I contacted about a dozen insulation providers regarding my house in Torbay, Auckland. Natural Insulation phoned back the next day and sent Mike to do a quote the following day. A week later, the insulation was done, taking one and a half days. The interaction with the guys was a pleasure from the moment I received the call from Natural Insulation to the time I got a call from Mike saying he was finished. I can commend them on the way they completed the work without leaving any dirt or signs that someone had worked there. I am very happy with the result. Schalk Bruwer, North Shore, Auckland.
The service we received from Natural Insulation was superb. We had prompt and friendly communication with David during the entire process. The guys managed to fit the insulation cheerfully despite the awkward attic space and very tight underfloor area. The heat pump is ideal, and the old house no longer feels like a walk-in chiller. We are pleased to have a much more liveable home for our daughter and her family to enjoy for years to come. Thanks again!! Katie Warrington, Dunedin.
Craig from Natural Insulation was fantastic to deal with. The process was simple and easy and I really do notice the difference in warmth in the house. Access into the floor void was limited so Craig gave us a quote for the worst case scenario but once the guys got down into the floor void, it turned out to be  easier than they thought, so they were able to save me money. Real honesty like that is a rare thing and very much appreciated. Dave, Christchurch.
We asked Michael Morrison of Natural Insulation to give us a quote for a rented house and our own home. We were impressed the company's professionalism, competitiveness and attention to detail from the quote through to the installation at both homes. Due to illness, my husband was unable to clear the area before installation of underfloor insulation. However, Mike's team did this at no extra charge. It is this high standard of service that makes the company stand out above the others. The installers were pleasant men who ensured the house was left in the state they found it. The job commenced promptly and finished within the time-frames specified. We have been well-satisfied with the extra warmth provided by the insulation. Rex and Rozina Morgan, Auckland.
We have just had work finished on our house which included an original quote, installation/upgrade of a ceiling blanket and the installation of a heat pump. Our Natural Insulation consultant was Malcolm Jensen whom I found excellent to deal with. Malcolm was honest and thorough. He listened to what we wanted and gave us all the information we needed to make a decision after the initial quote, in a timely and professional manner.
The excellent service continued with the two young guys who installed the ceiling blanket as well as the heat pump installers. Nothing was a problem and they left the site clean & tidy.
I would definitely recommend and use your service again. Sue McFarlane, Waikato.
We would like to express our gratitude and satisfaction for an excellent experience and job completed by Gerry and the team at Natural Insulation. Gerry arrived for the initial consultation on the day and time specified. Gerry was thorough with his inspection and then took the time to explain in detail where we were losing heat and gave  several options on how best to insulate. A plan to do the installation was made and day and time arranged without any delay. After the job was completed another follow-up inspection was made to ensure installation was correct. Our home now retains heat. We wish we had found Gerry sooner. We have since recommended Natural Insulation to others who have also had a good experience with Gerry and his team. Joy and Graeme Thomas, Napier
We moved into our house two years ago and have never really been cosy and warm until we had your insulation product put into our ceiling. Now, we very rarely need to use other forms of heating as the sun, the thermo-backed curtains and your natural insulation does the job superbly. We thought the crew who installed the insulation were wonderful. We were well-informed before they started and we have had a call back to see if we are happy with the service – we definitely are. Thank you to Natural Insulation – a great product. Patricia Reddy, Hastings.
I used David Harvey of Natural Insulation to install underfloor insulation in my house.  Out of all the providers I met, David's service was better in every way and the insulation itself was a breeze.  Now that winter has come, I am utterly delighted with the results and my house is much warmer than last year.
Also, David helped me choose a heat pump even though I decided not to use him to supply it. I have no hesitation in recommending him. Angela Howell, Dunedin.
I employed Natural Insulation Waikato to insulate my home in April of 2011. I found the up-front service was very good. Malcolm came to my home and we discussed the scope of the project in some detail. Malcolm was very helpful. There was no pressure to buy and when I did decide what type of insulation I wanted, it was all go.
The installers arrived at 0730 and were straight into the job, planning and preparing the day well. An audit was done on the work which is a great service to keep the installers honest.
I found the insulation to be great. We have not had to light the fire as soon in the winter as we would normally do and we have seen some improvement in the amount of condensation on the windows. Generally our home is warmer and dryer. Paul and Jo Griffin, Morrinsville.