Autex Greenstuf Insulation
There are three many reasons to insulate your home; financial, comfort and health. The best insulation products available will all tackle these main three reasons by ensuring that temperature fluctuations are kept to a minimum, with heat retained when it is cold outside, and excess heat reflected when it is hot outside. In doing this, heating bills are naturally reduced, excess condensation is kept to a minimum, preventing the build-up of cold, damp air in the home, which can have a serious effect on respiratory afflictions including Asthma and Bronchitis. But which insulation product is the best for insulating a home?
The main options readily available in New Zealand are Pink Batts, Bradford Gold and Autex Greenstuf. What are the differences? Each are made to New Zealand's highest building codes and fire standards, and each come with a 50+ year guarantee from the manufacturer. Which is the best for your home insulation? A professional installer will be able to advise for a specific project, but on the whole, an understanding of the proposed performance is required.
The GreenStuf range of products are specifically designed for New Zealand homes. Designed for a range of different uses within the home, each product has a specific purpose, designed to provide optimal results in their niche. Where many other insulation materials are generic insulation products, GreenStuf targets common pitfalls in New Zealand properties to include thin cavities, masonry walls, under floor, water cylinder and even acoustic insulation.
Why GreenStuf Insulation?
Autex, who manufacture GreenStuf are an Auckland based company with over 45 years' experience tailor making insulation products for New Zealand homes. Continued innovation and investment in new technologies has meant that the GreenStuf range has products with a range of intricate changes, allowing the products to perfectly fit their required purpose. There is certainly no generic 'one-size-fits-all' approach, with subtly different variations for walls, ceilings, under floor insulation, masonry and even acoustic insulation products all available under the GreenStuf range. GreenStuf offers the largest insulation product range in New Zealand, ensuring that the correct insulation material is available for each aspect of your project.
Performance of GreenStuf Insulation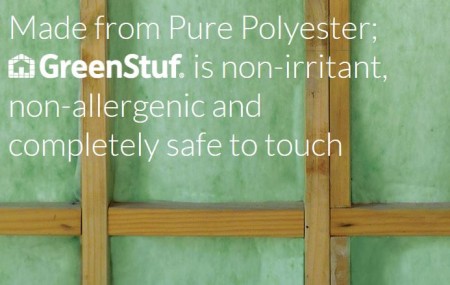 The financial incentives of insulating a Northland home are clear, with a variety of studies from the Energy Efficiency & Conservation Authority (EECA), Energy Saving Trust and the government's own "Warm Up New Zealand" campaign publishing figures for the average household. These publications all show that the average New Zealand home, especially the traditional timber framed home, spend at least 30% of their annual energy bills on heating, excluding water. Of this, a staggering 50% is lost. Most is lost through the roof, with a significant amount also disappearing through the walls.
Households without insulation can save on average 15% of their annual energy bills (around $300) simply by insulating (EECA). That saving represents three quarters of the EECA's target figure of a 20% energy bill saving for households in New Zealand. The remaining 5% can be saved through more efficient use of energy, enabled by the increased stability of heating levels created by a well-insulated home. The whole of the GreenStuf range is created for maximum performance. Resistant to degradation caused by moisture or mould, GreenStuf will last a minimum of 50 years before it needs attention, meaning that over the course of its lifetime, it will pay for itself at least 5 times over. A remarkable return on investment.
Whilst GreenStuf matches the market leading New Zealand insulation materials for its insulating properties, it stands alone as a safe choice in situations where the health aspects of insulating the home are important. GreenStuf is made from a polyester fibre, not the standard glass wool fibres that form the base of many New Zealand insulation products. Polyester fibres are commonly used throughout the home, in clothing and bedding, ensuring that there are no adverse allergens or irritants to infuriate either installers or residents. Polyester fibre is durable, and safe to use.
The health benefits of a well-insulated home cannot be under-estimated. It may sound a little far-fetched, but a raft of studies, most notably the 2007 study from the Wellington School of Medicine & Health, showed a significant reduction in GP visits from inhabitants of well insulated homes as well as fewer sick days, fewer hospital visits and an improvement of self-reported health. This is because the damp, cold conditions that often thrive in an uninsulated timber framed home both place additional stress on the respiratory system, and create conditions ideal for mould, mildew and even dust mites, all of which can aggravate existing respiratory complaints such as asthma.
Very few homes in New Zealand were insulated before 1987, and it has regularly been attributed as a major contributing factor to the high asthma rates and winter death rates in New Zealand. The World Health Organisation has stated that optimum conditions for health require a stable room temperature of between 18 & 24⁰C throughout the year, without major fluctuation – which is exactly the conditions that a well-insulated home provide.
The use of GreenStuf insulation in many New Zealand hospitals, schools and commercial premises is testament to the cleanliness of the materials used and it has been awarded New Zealand's highest Quality and Environmental standards as well as appraisal by BRANZ.
Custom built for the New Zealand market, GreenStuf is built to be self-supporting. Many homes in NZ are built with unsupported timber frames, meaning that insulation is hard to keep in place. Designed to be completely self-supporting, GreenStuf insulation installed correctly will not collapse or erode over time. Small slippages and areas of degradation common in some forms of insulation can have surprisingly large impacts on performance. It has been calculated that just 5% of uncovered or disjoining in insulation can reduce the financial benefit of instillation by an alarming 50%. The structural integrity of the material means that calculations on return on investment are straight-forward, without the need to factor in constant inspection, repair or replacement. The manufacturer's material guarantee will provide complete peace of mind to this end too.
Which GreenStuf insulation to use in a NZ Home?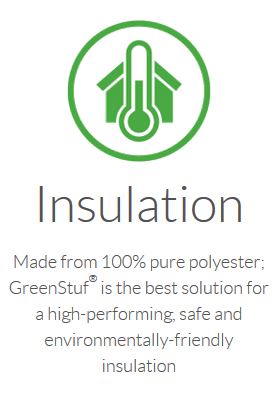 A typical, uninsulated home loses 50% of its heat, wasting 50% of the price of heating. This happens through 5 main areas. Most significantly, 35% of this is through the roof. To combat this, GreenStuf Pads have been specifically designed to insulate traditional timber framed roofs. Thermally bonded to shape, the pads are self-supporting, smugly fitting to ensure that heat leakage is significantly reduced. Alternatively, for larger spaces, GreenStuf Roll Form insulation, made from the same material, can be rolled across larger areas with fewer segments.
These pads can also be used to line cavity walls; an area where a further 25% of heat is lost. Solid stone or concrete walls are better at thermally insulating a property, but still need help in order to be sufficiently reduce both heat loss and temperature fluctuations associated will ill-health. The difficulties of insulating solid walls means that many products are completely unsuitable for the task, but GreenStuf have tailored their flagship product to work on solid walls without drawing moisture, creating condensation and damaging the fabric of the structure itself, as is the case with many generic insulation products. GreenStuf Masonry Wall Blanket is the market leading solid wall insulation.
A further 12% of heat is lost through an uninsulated floor, and again, there is a bespoke product to tackle this issue too. GreenStuf Underfloor rolls both reduce heat loss through joist floors and reduce drafts in timber framed buildings.
Finally, the remaining 28% of heating is lost through doors and windows. This, unfortunately, is hard to effectively combat with anything other than quality glazing!
If insulation is being considered for reasons other than the most regularly cited three (heat loss, comfort or health), the GreenStuf range has another gem: GreenStuf Sound Solution Acoustic insulation. Acoustic insulation works in both directions; preventing sound leakage from the property, and keeping external sounds out of the home. A GreenStuf insulation professional will be able to advise fully on the best product for a specific site.
GreenStuf – The green stuff?
The GreenStuf production process is the cleanest insulation process available on the market. Creating high performance insulation from up to 85% recycled PET plastic (most commonly used in drinks bottles), GreenStuf insulation has been awarded the coveted Environmental Choice New Zealand (ECNZ), and carries their mark of approval.
The benefit of this is that whilst the thermal properties are as impressive as those made from glass wool, the insulation can be recycled, being formed from around 85% recycled plastic. There are no chemical binding agents, meaning that old GreenStuf insulation can be recycled, keeping it away from landfills.