Ventilation
Why do I need ventilation?
Ventilation makes your whole home healthier by ensuring the air you breathe is fresh and free of contaminants and moisture.
Every day, each person living in your house creates one litre of water through showering, cooking and breathing. This water condenses on windows and is most noticeable in the mornings when they stream. Moisture is also absorbed into carpet, bedding, curtains and even the clothes in your wardrobe and your children's soft toys.
This moisture causes dampness and breeds mould and mildew which can cause or worsen allergies, aggravate asthma and cause respiratory problems.
Installing ventilation removes unhealthy air from your home using a positive pressure system. Fresh, dry air in your roof cavity is filtered to remove pollens, dusts and other air-borne contaminants. Fans then evenly distribute this healthy, dry air throughout your home through multiple ceiling vents. Any moist, stale air is forced out of the house through small gaps around windows or doors, leaving the air inside your house fresh and clean.
Ventilation continues to work for you in those hot, sticky summer months preventing hot air from entering the house. It's an all-year-round ventilation solution.
How can I ventilate my home?
A no-obligation Home Assessment will detail the best ventilation options for your home. A four outlet system is sufficient for a typical three-bedroom house. You can add further outlets at any time in the future. Contact Natural Insulation now.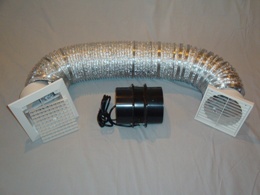 Extractor Fans
GreenChoice Ventilation also provides extractor fans which are ideal for laundries, bathrooms, toilets and ensuites.
The fans remove moisture and odours from the air at a rate of 80 litres per second.