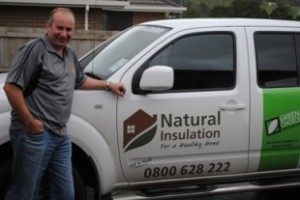 With many years of experience in the home insulation industry, Natural Insulation's owners know what they're doing when it comes to sourcing and installing the right insulation for your home.
Their knowledge and experience contribute to the company's success as a nation-wide provider of home insulation.
Greg Silvester (pictured right) and all the Natural Insulation licensees throughout New Zealand care about helping you create warm, healthy homes and reduce your energy costs. To this end, they have developed a seamless process for delivering excellence in service and customer care that includes:
A prompt response to your telephone call or email enquiry
A no-obligation home insulation assessment conducted by an expert with up-to-date product knowledge who will answer your queries and provide you with a quote on site
Prompt, professional installation by a qualified team which follows best practice and completes jobs to a high standard ensuring your home is left clean and tidy
Expert advice on funding options and local council subsidies
If you have considered insulation or clean heating but are not sure if you can afford it, Natural Insulation also has a number of insulation funding options available to you including the government's Warm Up NZ: Heat Smart Programme, local council subsidies or a GE Money financial package.
If you would like to get started now, or find out whether home insulation is right for you, then go ahead and request a no-obligation home assessment and experience the significant benefits home insulation can offer you.
We encourage you to also find out what our satisfied customers from all across New Zealand have to say about the benefits insulation have provided their homes and the level of customer service Natural Insulation provided.
Facts On New Zealand Home Insulation